Exercise is not recreation, and recreation is not exercise. Use good exercise to stay healthy, and use that good health to enjoy your recreation. By building muscle in this particular way, you will have more stamina and strength to perform and enjoy all of your recreational activities with greater ease.
Ultimate Strength Studio is a cardiovascular workout. The workout lasts 20 minutes, during which your heart rate will be continuously elevated. Stronger muscles work more effectively to draw oxygen from the blood and reduce the demand on the heart and lungs. Strength training, performed properly, challenges the cardiovascular system more than adequately to keep that system healthy. Muscles are the mechanisms by which we can stress and stimulate all of the body's support systems (cardiovascular, respiratory, skeletal, metabolic, endocrine, etc.). The higher the quality of muscular work in your exercise, the greater the effect on all of your body's systems.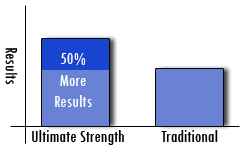 Hard to believe, but our prescribed 1x/per week, actually allows your body its natural course to recover and build the long term, sustained strength you desire from a workout. High intensity muscular stimulation taxes the muscle to exhaustion. With an adequate rest period, the muscle will overcompensate for the exertion and grow. In this way, you continue to gain muscular strength and composition. More muscle makes for a more efficient metabolism. Whether you work out presently, or haven't exercised in years and feel out of shape, this is the safest and most efficient method of working out.